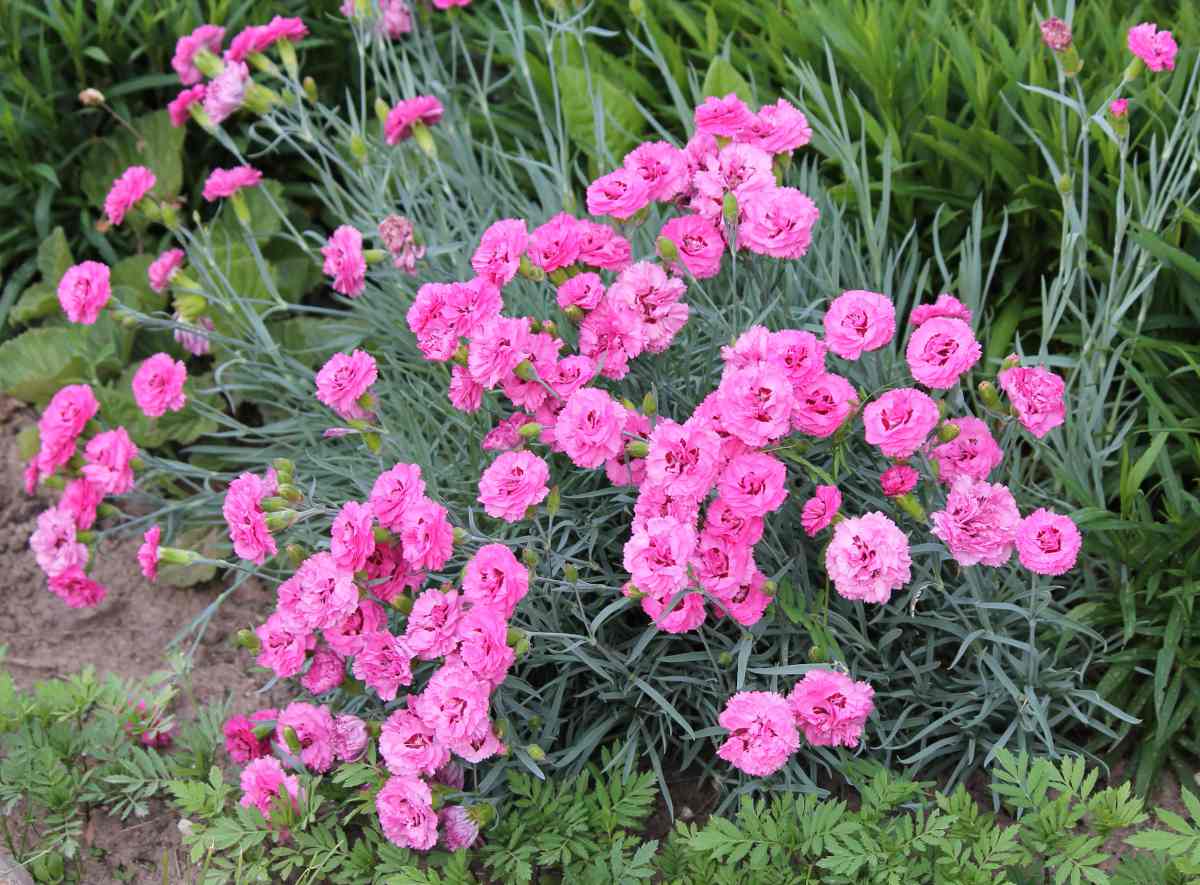 Garden pink is appreciated for its flowers and slender,  somewhat blueish foliage.
Key Garden Pink facts
Name –
Family – Caryophyllaceae
Type – perennial
Height – 20 to 32 inches (50 to 80 cm)
Soil – well drained, ordinary
Exposure: full/part sun    –    Sowing: spring    –    Flowering: late spring 'till fall
It is a very beautiful perennial that flowers in droves all summer long.
Planting, sowing garden pink
How to sow garden pink
Garden pink can be sown as early as February, even a bit earlier for regions that are more in the South.
Lightly cover the seeds with soil mix.
Sprouting should take 1 or 2 weeks.
Transplant your garden pink once in nursery pots before planting them outside during the month of May-June, after any risk of freezing has disappeared.
You may sow directly in the ground starting in April or May if the climate in your area permits (no more risk of freezing).
Note that garden pink loves warm and sunny spots for it to bloom well.
Planting garden pink
For your garden pinks purchased in nursery pots, plant in spring and summer in light soil.
To make the soil lighter, you can add river sand.
Water after planting to speed root development up.
Provide fertilizer every year to spur the growth of your garden pinks.
Caring for garden pink
Garden pink actually doesn't need much care, but a few good practices will help enhance and extend the blooming.
After the first summer blooming, cut an inch (a couple centimeters) or so off the growth with small shears. This will make your garden pinks denser for the subsequent blooming.
Watering is often superfluous since garden pinks resist dry spells so well.
But if leaves start drooping down, it means it does need a bit of water, especially in pots and garden boxes.
Garden pink is vulnerable to rust.
All there is to know about garden pink
This is one of the perennial carnations and it truly is a desert flower that blooms and spreads its fragrance even in the most difficult spots to cultivate.
Indeed, unlike clove pink, China pink and sweet William that are annuals, garden pink is a perennial.
Garden pink is much loved for its fragrant flowers, of course, and its many different colors that range from white to red with some flowering in purple or yellow.
It bears simple or double flowers depending on the variety and its blooming lasts from May to October.
Today, it is among the most famous carnations and rightly so, because its fragrant and colorful flowers please so many of us!
Smart tip about garden pink
Garden pinks can also simply be broadcast sown in spring, and they'll bloom in bright colors until fall.
---
Images: kazakovmaksim/AdobeStock, CC BY-SA 2.0: Alvin Kho