Cookies help us customize content and advertising, provide features related to social media and analyze visitor traffic. We also share information about how our website is used to our social media, advertising and analysis partners. These, in turn, may collate this information with whatever other information you may have provided them or let them collect from your using of their services.
Data deletion: how to request deletion of any data we have about you
What data does Nature & Garden collect?
As described in each section below, data is collected through several different channels:
Questions or problems?
Write a comment underneath any article/post, and detail your question or issue there. Remember to include your actual email in the required box.
We will read the comment within a few days, and answer you by email directly. The comment itself will remain hidden from the public, and deleted once it has been transferred to our email conversation.
1- Sirdata, our Consent Management Provider
Jardiner Malin, owner of Nature & Garden, obtains your consent in accordance with the policies and technical specifications of:
IAB Europe Transparency & Consent Framework. Sirdata uses the Consent Management Platform with the identification n°92. This ensures compliance with RGPD.
California Consumer Privacy Act (CCPA).
You can change your choices at any time by clicking on the "Privacy Settings" link on the footer of every Nature & Garden page.
Data collected by Sirdata, cookies where its is stored, and how to object to its use:

Sirdata is a data marketing company that allows its Customers to provide Users with relevant offers tailored to their interests. It also helps collect and store the consent of Users for us, for its partners, and for our other partners.
What data is collected?
Sirdata collects exclusively non-direct Personal Identifiable Information. This means that from the data, it isn't possible to extract the User's name, surname, email, or telephone number for instance. Sirdata does not process this type of Sensitive Personal Data, nor does it combine data sets to infer this type of information.
The Data collected by Sirdata is kept for a maximum period of 365 days, depending on the purpose of the processing, in accordance with the laws in force and the principle of minimization.
For more information on how your data is collected, collated, and processed by Sirdata and its partners, see here:
https://www.sirdata.com/privacy/
2- Advertising cookie and Google privacy policy
As a third-party provider of Jardiner Malin SARL, Google uses cookies to serve adds on https://www.nature-and-garden.com . The use by Google of the DART cookie enables it to serve adds to you, the user, based on your visit to our sites and other sites on the Internet.
As a user, you may opt out and deactivate use of the DART cookie. To request that your data be deleted or modify your settings, visit the Google ad and content network privacy policy: Ads Settings
Google captcha on the Nature & Garden Forum:
To reduce the amount of spam, an automatic reCaptcha analyses movements on the screen to determine whether a user is a person or a robot. This is only used to fight spam and abuse, in our case to restrict creating accounts to real persons. Here is more information on the terms and privacy policy Google associates with reCaptcha: https://policies.google.com/terms
Deactivating and removing cookies when navigating on Nature-and-Garden.com:
If, while visiting Nature-and-Garden, you wish to block use of your data for interest-related targeted advertising, you may change the settings and parameters of your browser accordingly. Deactivate cookies and clear cookies after each session. You can also set your browser to do so automatically.
3- Social media
Creating a Nature & Garden account through a Social Media provider:
When you create a Nature & Garden account through a social media provider (Google, Facebook, Twitter), you explicitly authorize the Social Media account provider to connect your personal information with your experience of the Nature & Garden.
Nature & Garden only has access to what the Social Media provider shares us, which is generally just your username and, for account administration purposes, your email. Social Media sign-in lets you sign in to Nature & Garden without needing to remember an additional password and username.
You can disconnect your Social Media sign-on from your Nature & Garden dashboard, in the "Social Login" section.
You can also disconnect your Social Media sign-in from within your social media account itself, under the "Security" section, usually in the "Third party apps" category.
Facebook
For example, to delete data for Facebook, follow these steps:
1. Go to your Facebook Account's Setting & Privacy. Click "Settings"
2. Look for "Apps and Websites" and you will see all of the websites and apps you linked with your Facebook.
3. Search and Click "Nature and Garden" in the search bar.
4. Scroll and click "Remove".
5. Congratulations, you have successfully removed your app activities.
Guidelines related to Facebook, which is one of our partners, may be read on the following webpage: https://www.facebook.com/help/cookies/
4- Nature & Garden Accounts, Comments, and Newsletters
Creating a Nature & Garden account
Creating an account with Nature & Garden is free and voluntary. It is required to participate in discussions on the forum.
If you do not have an account, Nature and Garden has no data about you to delete. Only
Upon registration, you type your Name and/or Username, and your Email. After confirmation, you will be granted access to a dashboard which brings together the contributions you make on the forum and the parameters for the various Nature & Garden features.
Deleting your Nature & Garden Account and related data
From your account dashboard, you can request deletion of your account and deletion of its data:

Step 1: enter the "My Account" portion of the dashboard by clicking the cogwheel gear symbol and selecting "My Account" from anywhere in your profile: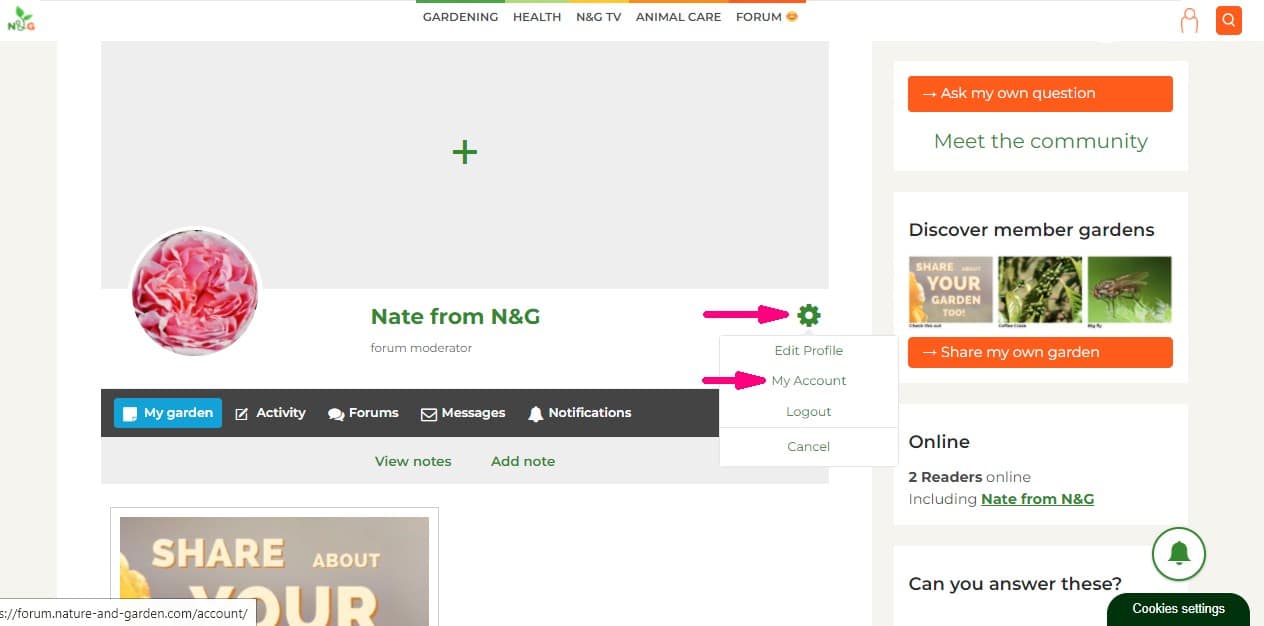 Step 2: In the "My Account" portion of your dashboard, select the "Delete Account" tab, enter your password, and then click the blue "Delete Account" button, as shown in the following screenshot: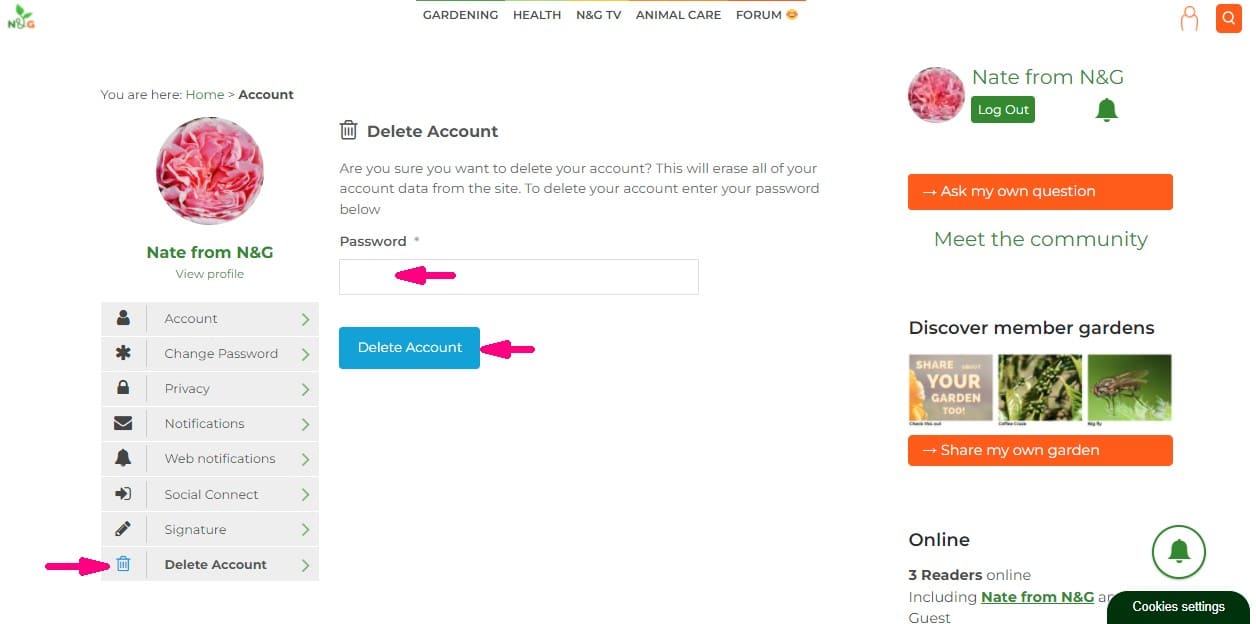 Commenting under an article or post
When you leave a comment under an article, you type your Name and email in. This email is stored by Nature & Garden and is used to send you an email when your comment has been validated and answered.
This does not automatically create a Nature & Garden account.
Only Site Administrators have access to your Email.
Your name is published above your comment, but not your email.
To modify your published name, comment, or to request that your email be deleted from our database, either reply to the "comment validation" email to request data deletion or send a message to gaspard@nature-and-garden.com and we will comply within a few working days (less than 5).
Nature & Garden newsletter
It is possible to type your email in to be subscribed to the Nature & Garden newsletter. This email is only used for the purpose of sending you our newsletter.
If and when you create a Nature & Garden account, your status as a newsletter subscriber will be carried over to your account and dashboard, where you can manage the parameters connected to the Newsletter: receive, stop receiving, and delete account data.
External links and third party referrals
At times, we provide links towards other websites and web pages. We do not condone, support, or are in any way responsible or liable for the content or activities of these other websites and pages. They may have separate and independent privacy policies. If you feel the integrity of our own website may suffer from these websites' activities, we would welcome your feedback.
Your consent
By using our website, you consent to our website privacy policy.
Changes and modifications of our Privacy Policy
The content of this page was last modified on March 15th, 2022.