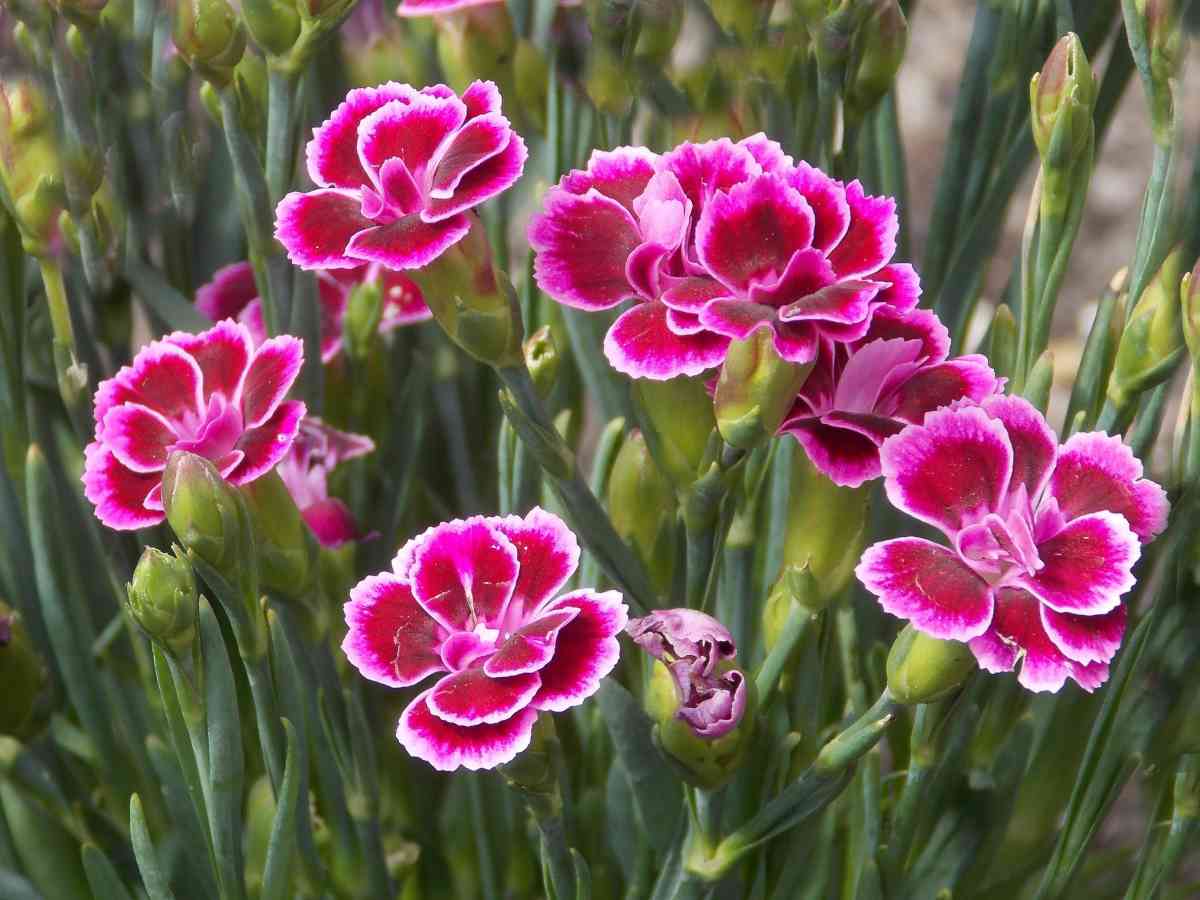 Clove pink is known as Florists' or common carnation.
Key Clove Pink facts
Name – Dianthus caryophyllus
Family – Caryophyllaceae
Type – annual
Height – 20 to 32 inches (50 to 80 cm)
Exposure – full sun, part sun
Soil – well drained, ordinary
Sowing:  early spring/early summer     –     Flowering: early summer/late fall
This is a very beautiful annual flower that blooms abundantly all summer long.
Planting, sowing clove pink
How to sow clove pink
Clove pink can be sown as early as February, even a bit earlier for regions that are more in the South.
It adapts well to most soil and climate types and likes being in the sun.
You may proceed to sow under shelter starting from the month of February.
Don't cover the seeds, they need light to trigger their germinating.
They germinate at 65 to 68°F (18 to 20°C).
Sprouting should take 1 or 2 weeks.
Transplant your clove pink once in nursery pots before putting them in place during the month of May, after any risk of freezing has disappeared.
You may sow directly in the ground starting in April or May if the climate in your area permits.
Summer sowing of clove pink
It is also possible to sow clove pink in summer in pots, with the plan to transplant them early in the following spring, and you'll have early flowering that way.
Sowing is in August and September, in a nursery.
Use the same seed sowing technique as described above.
Overwinter in a sheltered place.
Set in place in spring, towards March or April, depending on the region.
Note that clove pink prefers sunny spots to flower well.
Caring for clove pink
Very little care is required for clove pink, but a few good practices will help enhance and extend the blooming.
To stimulate appearance of new flowers, cut wilted flowers regularly (deadheading).
Water in case of prolonged dry spells or heat wave only.
Note that if your clove pink is planted in a garden box and that you have an unheated greenhouse, bring them in before the first frost spells hit and they will bloom during winter.
They also often bloom in winter in areas where the cold is mild, like the Mediterranean climate.
All there is to know about clove pink
Clove pink is much loved for its amazing flower-bearing capacities, its fragrant flowers and its many different colors that range from white to red with some flowering in purple or yellow.
An annual plant just like China pink or sweet William, it is part of the large carnation family.
It is often found in flower shops since its long, rigid stems make it easy to add to bouquets.
But first and foremost, it is found in our gardens, flower beds and garden boxes because it is very ornamental and offers a wide range of possible colors.
Smart tip about clove pink
Clove pink can also simply be broadcast sown in spring, and they'll bloom in bright colors until fall.
---
Images: Pixabay: Barbara Busquet, Dami Wurtz