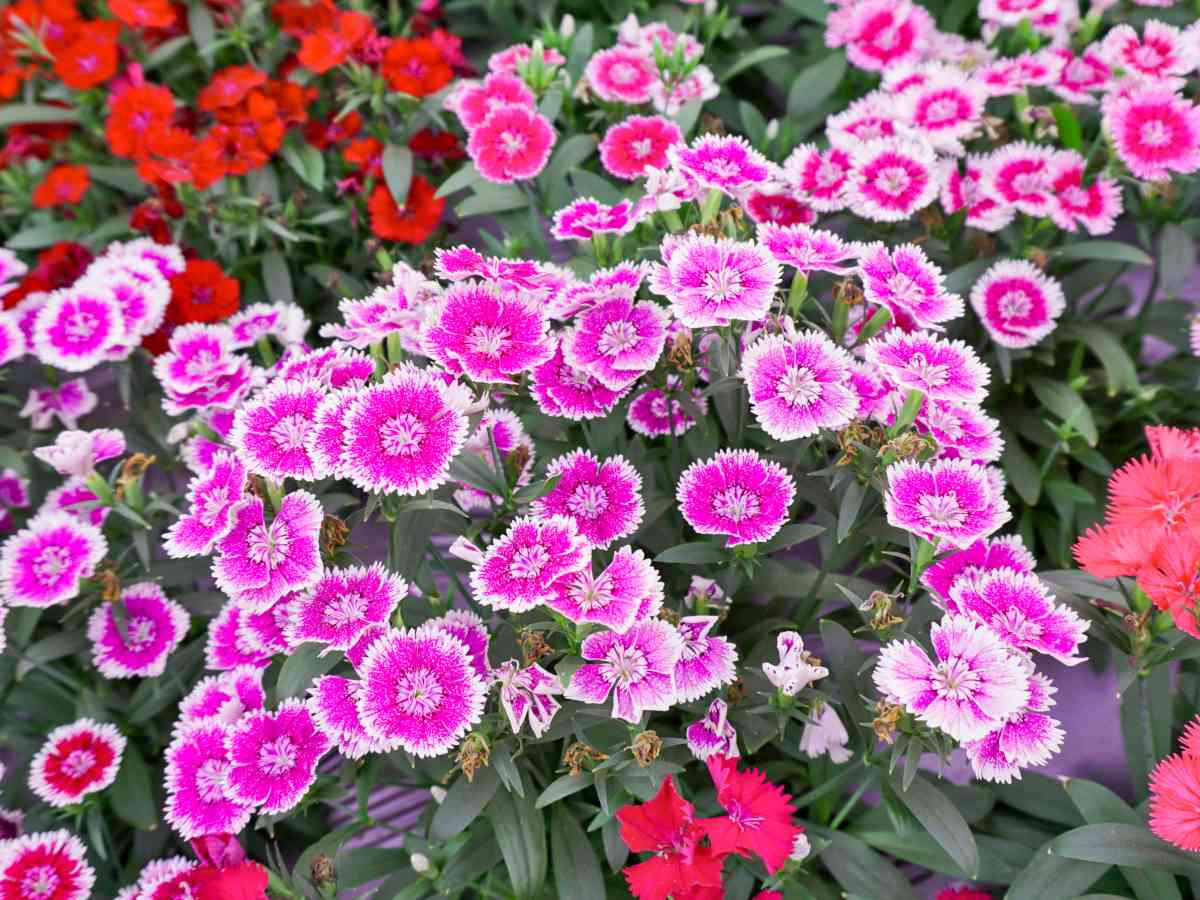 China pink is a small flower (Dianthus chinensis) which has magnificent colors.
Key China Pink facts
Name – Dianthus chinensis
Family – Caryophyllaceae
Type – annual
Height – 8 to 12 inches (20 to 30 cm)
Exposure – full sun, part sun
Soil – well drained, ordinary
Sowing: early to mid spring  –   Flowering: mid-spring→mid-fall
This short and neat-growing flower is excellent for lining edges, flower beds and garden boxes.
Planting, sowing China pink
Once you've got some going, or if a neighbor is growing them, go ahead and start them from seed. If not, simply buy a few potted plants at a nearby nursery to plant.
How to sow China pink
China pink can be sown as early as February, even a bit earlier for regions that are more in the South.
You may proceed to sow under shelter starting from the month of February.
Cover the seeds with only a very thin layer of soil mix because they also need light to start germinating.
They germinate at 65 to 68°F (18 to 20°C).
Sprouting should take 1 or 2 weeks.
Transplant your China pink once to a nursery pot and then transfer to the open air during the month of May, after any risk of freezing has disappeared.
You may sow directly in the ground starting in April or May if the climate in your area permits.
Note that your China pink will need sufficient sun to bloom, at least 3 to 4 hours of direct sunlight a day.
For China pinks purchased in containers, plant them to the ground in spring or at the end of summer, these are the two ideal planting dates.
Keep at least 10 to 12 inches (25 to 30 cm) between China pink plants, so that they may have space to grow.
Caring for China pink
China pink doesn't require any care once it is properly settled in. Performing these few tasks will help enhance and extend the blooming.
To stimulate appearance of new flowers, cut wilted flowers regularly (deadheading).
The act of cutting wilting flowers off as they die helps prepare a second blooming towards the end of the season.
Water in case of prolonged dry spells or heat wave only.
As soon as the first fall frost spells have hit, your China pink should die off and normally won't grow back the following year. You can pull them out before winter.
All there is to know about China pink
China pink is native to its namesake country. China pink offers a very long blooming period, from March and April up to end of October, which makes it one of the longest-blooming annuals.
The colors of its flowers are either solid or mixed, and go from white to red with instances of pink, purple or violet.
This undemanding plant can be planted on rocky ground, along edges, but also are appealing in flower beds, garden boxes and pots.
Smart tip about China pink
China pink flowers are vulnerable to rust. To avoid this, rotate them to a different spot from one year to the next.
---
Images: dreamstime: Ponpun Tong, Pixabay: Sascha Wieser, Manseok Kim, Sylvia